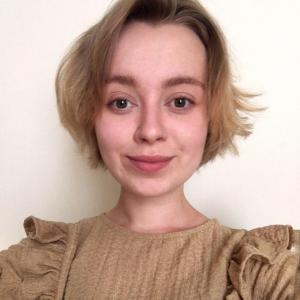 Name:
Olha Pohranychna
[ Teacher ]
Brief info:
General English, Conversational, English for Work and Travelling
I speak:
German, English, Polish, Russian, Ukrainian
Teaching experience:
7 years
Hi! My name's Olha. I am an introvert who adores talking to people :) I have a BA degree in English studies. At university, English was my major, but I also studied German and French. Currently, I'm learning Spanish, Polish and Turkish. As you see, languages are not merely my profession, they are my main hobby and I truly believe that all a person needs for happiness is doing for a living something that he or she loves above all. I have always been there for my friends, who struggled with learning English. They were my very first students. Later on, in my first year at university, I started giving private lessons to the students from other departments. Then I took part in a volunteering project in the Czech Republic, organised by AIESEC, where I was giving well-rounded lessons to the students of primary and secondary schools of Prague. Apart from that, I've got more than a year of experience in online teaching. I believe that an effective lesson is the one, that passed unnoticed both for a student and a teacher that means it was versatile, fun and stress-free. That's why the only strategy I use during my lessons is "The student is my friend and I'm not teaching, but sharing my knowledge and experience". I also speak very clearly and adapt to everyone's needs. During my free time, I prefer to cook. I even have my own speciality - the lemon pie, which I always treat my family and friends with. I am also keen on practising yoga and meditation, especially outside. I read a lot of non-fiction literature and try to grow personally all the time. I travel a lot since that's the only way to experience the life and beauty of the world to the fullest. Every trip teaches me something new and I wholeheartedly believe that a person should learn all his or her life. That is exactly what I wish my students. Learn, make mistakes and make little discoveries every day because life is too beautiful and too short for wasting it aimlessly.
Only registered users can see contacts!