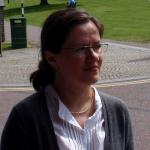 Teaching experience:
7 years
Hello
I have been living in the UK for the last 20 years. I have an enormous passion for English language and want to help my students to achieve their goals in studying it.
I hold CELTA and a Masters degree in International Business and Management .

I also have a year combined experience in TESOL in the UK.

I am very enthusiastic about second language acquisition as I have been studying languages myself.
I believe that motivation is the key factor in language learning and all students will learn as long as they are motivated, guided and encouraged according to their needs.

My experiences include directly working with Asian students as well as Eastern European students at Blackburn College where I was able to utilize my knowledge, experiences of languages learning, and passion for cultural and linguistic differences to better assist my students.

As a teacher of English as a Second Language I will motivate my students, provide them with meaningful bases of language learning, and differentiate instruction to address the weaknesses, strengths and needs of each student.
Only registered users can see contacts!