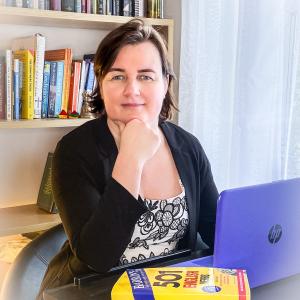 Teaching experience:
10 years
Active last time:
28.11.2023 at 22:41
Hello everyone, My name is Vita, and I am thrilled to be here today to share my teaching experience with you all. I have been working as a teacher for the past ten years, and during this time, I have had the opportunity to teach a diverse range of students from various countries and at different levels. Throughout my teaching career, I have taught a range of subjects, including English language, maths, and social studies, among others. I have had students of all ages, ranging from young learners to adults, and have taught in different educational settings, including public and private schools, language schools, and online platforms. One of the things I love about teaching is the opportunity to interact with students from different cultures and backgrounds. I have had students from all over the world, including Asia, Africa and Europe. This has allowed me to gain a deeper understanding of different cultures and learn new things from my students. In my ten years of teaching, I have developed various strategies and techniques that have helped me to connect with my students and create a positive learning environment. I believe that every student has their own unique learning style and needs, and it is the responsibility of the teacher to identify these needs and cater to them. I also believe in the power of technology in the classroom. Over the years, I have incorporated various technologies and tools into my teaching, such as interactive whiteboards, online learning platforms, and educational apps. These tools have not only made my classes more engaging and interactive but have also helped my students to learn and retain information more effectively. Finally, I would like to mention that teaching is not just a job for me, but a passion. Seeing my students grow and succeed in their academic and personal lives is the most fulfilling aspect of my job. I am committed to continuing my professional development and staying up-to-date with the latest teaching methods and technologies to ensure that my students receive the best education possible. Thank you for listening, and I hope you have gained insight into my teaching experience.
Only registered users can see contacts!