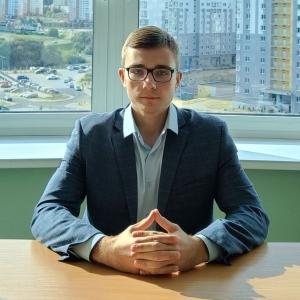 Name:
Michael Vododokhov
[ Teacher ]
Brief info:
Nietzschean Marxist. Deleuzian Nomad. Žižekian Communist. Cognitive Linguist. Eric André Fan
I speak:
Spanish, English, Russian, Polish, Ukrainian
Teaching experience:
1 year
Want to improve your English skills from the comfort of your own home? Look no further! I am a 3rd-year MSLU student with a passion for teaching and helping others improve their language skills. I have experience in teaching English informally to family and friends, and have been volunteering as a teacher assistant in the language school or community center. With my guidance, you will gain confidence in your speaking, listening, reading, and writing abilities. Whether you're a beginner looking to build a strong foundation or an advanced learner looking to perfect your skills, I can tailor my lessons to your individual needs. I focus on helping students develop communicative competence, which involves understanding grammar structures and how to use them appropriately in real-life situations. My goal is to empower students to effectively communicate in English and to help them gain confidence in their language abilities. My approach is interactive and engaging, and I conduct lessons via Zoom or Skype. I am also happy to provide homework and additional resources to supplement your learning outside of our sessions. My proficiency level is C1-C2 and I can teach students from A1 to C1 level. As a language student myself, I understand the challenges of learning a new language and I am dedicated to providing a supportive and interactive learning experience for my students. I believe that everyone has the potential to succeed in learning English and I am excited to be a part of that journey. Don't let distance or time constraints hold you back from reaching your full potential. Sign up for online English tutoring with me today and let's start your journey to fluency. My availability is from Monday to Saturday, except Thursday is entirely free, during the first part of the day. My schedule is flexible, so we can adjust it to your needs. Payment can be made via card. And the best part is that your first lesson is free of charge! Don't hesitate to contact me. My schedule is flexible, so we can adjust it to your needs. Don't wait, book your first lesson now! Let's start your journey to fluency together!
Only registered users can see contacts!