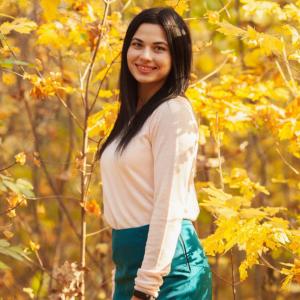 Name:
Илона Зибарева
[ Author ]
Brief info:
English tutor, Bachelor degree in Translation Studies
Teaching experience:
8 years
Hello,Hello, everyone! This is Ilona and I'm here to teach you a wide range of vocabulary,grammar and listening practices to help you improve your English
Now we're going to talk about self-introfuction
I ve got my degree in translation and theory of translation. I'm currently working as an English teacher and I can say that I do love that job. It inspires me to develop new skills, to broaden the horizons. So I'm sure this work is worthwhile.
Having worked for 4 years as a tutor, I now know what kind of problems students may have, what type of mistakes they do and which activities they prefer to complete. Therefore, I know how to work with kids, teens and adults and skate off mundane tasks.
My passion is stilleto dance cause this style helps you to exert your feelings, your behavior and personality. And what about you? Please, write a few words about your hobbies or passtimes and if needed I'll correct your answer.
See you)
Only registered users can see contacts!